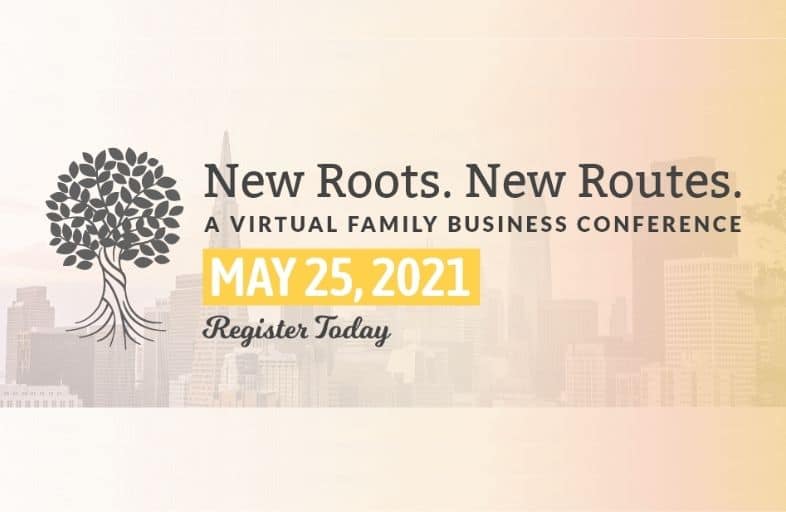 Are you coming to New Roots/New Routes? It's our free, one-day virtual family business conference on May 25th from 12:30-6:30 pm. We'll spend the afternoon talking as a community and learning from family business experts in a series of panels and breakout sessions.
No matter what, the day will be fun, informative, and inspiring. But there are a few steps you can take to get the most out of the event.
Set Concrete Goals
Before the day of the event, decide what you want to get out of the conference, then set concrete goals to help you achieve this.
Want to learn about business continuity? Write down three big questions you want answered by the end of the conference.
Are you attending to make new business connections? Set a goal to introduce yourself to five new people.
You want to learn about new tools for your business? Resolve to highlight any promising resources in your notes and spend some time after the event learning more about them.
Choose Your Sessions Ahead of Time
There are two Concurrent Breakout Sessions in which you'll get to choose between topics. Deciding what you want to learn ahead of time can help you make the best choice for your business and take the stress out of deciding in the moment
In session one, choose between…
New Roots – Meet the Funders: Access to Capital. This is a chance to speak in small groups with lenders, investors, nonprofits, and business accelerators about business funding.
New Routes – Worker Cooperative: An Alternative Legacy. Hear from A Slice of New York founder Kirk Vartan about the process of transitioning ownership of his business to a worker-owned cooperative.
In session two, choose between…
New Roots – Celebration: Family Business Continuity. A session about celebrating the legacy of family members.
New Routes – Sidewalk Stories: San Francisco's Hidden Gems. Sit in on intimate conversations with businesses that anchor the Fillmore and Haight communities. Hear how they've weathered the past year.
Switch Sessions if You're Not Feeling It
The purpose of New Roots/New Routes is to empower you and your business with information. If you get into a Concurrent Breakout Session and discover the subject matter isn't what you were looking for, it's ok to switch to another room. The same goes for networking rooms. If you're not having luck in the one you've picked, just switch into another.
Research the Speakers and their Companies
All our confirmed speakers are listed on the event page. And we've linked to all their LinkedIn profiles and company websites to make it easy to find them. So set aside a little time to learn about the people you'll be hearing from. And don't forget to write down any questions you want to ask them!
Sign Up for the Virtual Wine Tasting
After an afternoon of absorbing new information, it feels great to unwind. The virtual wine tasting during the awards ceremony is a chance to relax and socialize at the end of a day. You don't have to purchase wines to attend but it will make it a more fun experience.
The featured vintner is P. Harrell Wines, a local, Black-owned business founded by Paula Harrell. Their 2019 Riesling won Gold in the San Francisco Wine Competition.
Be part of this scintillating tasting and wine education of three exclusive Dry Creek Valley wines including a Zinfandel, dry Riesling and Rosé. Use code: USF2021Awards for 15% off your purchase from their online store here.
The deadlines to order your wines for shipping is Tuesday, May 18 by 5:00PM PT and Friday, May 21 by 5:00PM PT for East Bay pickup. For any questions, email: info@pharrellwines.com.
Connect with Other Conference Goers on Social Media
We want New Roots/New Routes to be a community building event where you can walk away with new friends and colleagues. And it's never too soon to start networking. To find other attendees, check social media for the hashtag #NewRootsNewRoutes. And use our social media sharing kit to announce that you'll be attending!
Update Your Digital Presence
Just like you'll be looking up speakers and fellow conference attendees, people will be looking you up too. So now's the time to update your digital presence to make a top tier impression. You don't need to go all out. But you should at least make sure that all the information on your website and social media is accurate and up to date. That goes for your personal profiles, your business profiles, and your business website.
Stay in Touch with Gellert Center
Leading up to the conference, we'll be sharing ongoing updates and resources (like this blog!). Follow us on Facebook, LinkedIn, and subscribe to our email list to make sure you never miss an update.
Invite Friends and Family
A conference is always more fun with someone you know. You could even get together for the day and attend in the same room. There are a ton of strategic reasons to bring a colleague along.
You'll have someone to talk to if you get stuck while networking. You can attend different sessions and fill each other in on what you learned. After the event, you can break down what you've learned together. Plus, the more people come, the more robust of a community we'll be able to build together.
Check Your Tech
Since this conference is all online, making sure your technology is set up to handle the day is crucial. Here's a handy checklist to make sure you're ready to go…
Check your internet connection
Make sure you have a place to plug in your devices
Check your camera and microphone
Download Zoom
Make sure you have the Zoom background you want (or no background)
Make sure your Zoom name is set how you want it
Make sure you have any filters turned off, so you

don't end up like this guy
And don't worry, we designed the start of the event to allow for some technical difficulties if something does go wrong.
Dress Comfortably but Professionally
There's no need for a suit and tie but maybe bust out your best Zoom shirt. Since you'll be spending the day at your desk, we want everyone to be comfortable. But you should also wear something that makes you feel confident and professional. Remember, you'll be meeting lots of new people and even some potential funders. So you want to make a strong first impression.
Follow Up
To make the most out of this conference, make sure you follow through on your goals. Set aside some time after the conference to reach out to any connections you made, add new contacts on LinkedIn, and plan out concrete steps to integrate what you've learned into your business practices.
Become a USF Gellert Family Business Center Member
Gellert Center members get access to members-only resources, exclusive business forums, free webinars, and more. Together, we're building a community of local family businesses dedicated to growing together.
Now until the day of the conference, businesses get $200 off a USF Gellert Family Business Center membership.
Sign up to continue learning from our network of family business experts.
See You There?
We hope these tips help you maximize your New Roots/New Routes experience. Please reach out with any questions you have in the meantime, and we can't wait to see you there!