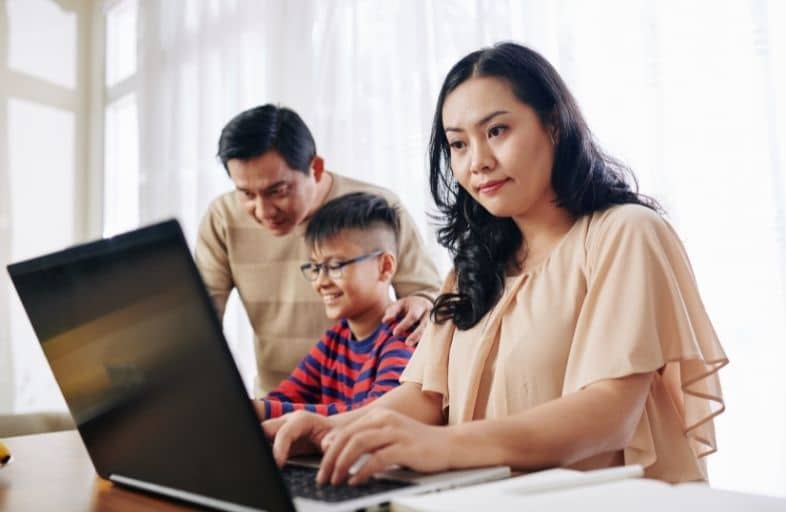 A family business is an asset that can support your loved ones for generations. But starting a brick-and-mortar is costly. So if you're wondering how to start a family business at home, you probably realize that operating out of your own residence can reduce costs and get your business off the ground quickly.
The good thing is that it's 100% possible to start a prosperous, successful family business from home, and these 12 steps will help you get off to a running start.
---
STEP 1 – Deciding How to Start a Family Business at Home (And What Kind of Business to Start!)
Starting a home-based family business impacts everyone in a household. And if you want to build something that can be passed down to the next generation, it's important to involve the next generation in planning. So, the question of how to start a family business at home should involve all members of the household plus any other family members who will be involved.
And including everyone, even the youngest family members, has the added bonus of giving everyone a sense of personal connection to the business. It helps the whole family work as a team to make the business the best it can be.
Here are some great ideas for family businesses that can be started at home…
Financial Services: Get trained to start an accounting or financial planning business from a home office. If your neighborhood doesn't allow business visitors, you can offer remote services.
eCommerce Sales: Sell goods online using an eCommerce platform. You can sell anything from art to clothing to children's toys.
Animal Care: If you love furry friends, consider an animal care business like pet sitting, dog walking, or animal training.
Catering or Packaged Food: Did you know you can get your home kitchen certified for commercial food production? If you think your great grandma's tamales are a gold-mine, then this might be the perfect option.
Home Services: If you have storage space for tools, this is a way to start a business from home without having to work from home. Services like cleaning, construction, painting, landscaping, and handyperson skills are all potentially lucrative enterprises that can be run while using your residence as "home-base."
Senior Care: For caring families who are open to a difficult but rewarding path, offering a room in your household for senior care can be a meaningful option. This path is most viable for households with a nurse in the family. However, there are certifications for non-medical professionals to start on this path as well.
Daycare: If you love caring for others but prefer to send them home in the evenings, childcare is a wonderful option. And your house will always be full of energy and children's laughter.
---
Step 2 – Name Your Business
Picking a name is one of the most exciting parts of starting a new business. A name gives everyone something to be excited about and makes the business feel real.
When choosing a name for a family business, think of something timeless that can last through generations. Avoid trendy references that won't be recognizable in 50 years, and think beyond the people currently involved. For example, if the patriarch of the Serrano family were starting a business with his two sons, "Serrano and Sons" might seem like the ideal name. But what happens when a daughter wants to take over the business in a future generation?
---
Step 3 – Assign Roles
Decide who in the family will be responsible for what. Even the youngest members might have roles to play. Maybe they help to clean up after pets for your pet sitting business or they help with the dishes at the end of a catering gig. Clearly defining roles helps everyone act as a team and gives the business added stability. Plus, it helps everyone know exactly how to prepare for the business' opening.
---
Step 4 – Get Training and Study the Industry
The type of training you need all depends on what kind of business you're opening. Some businesses require special certifications or education. And education could look different for different family members. Maybe Mom and Son take accounting classes together while Dad takes a course on business management. Determining training goals is another great reason to define roles early on.
This is also the time to start doing your in-depth homework about your business type.
Find out what licensing and permits you'll need
Research your competition
Read case studies about successful businesses in your industry
Learn about the most reliable tools of the trade
---
Step 5 – Make a Business Plan
Now that you're all experts in your industry, it's time to think up a detailed business plan. This is where you decide on the "how" in how to start a family business at home. Outline exactly how your business will make money, what goods and services you'll offer at what prices, and a plan for growing your business.
The US Small Business Administration has a handy guide for writing a quick and effective plan.
---
Step 6 – Make it Official with Registration, Licensing & Permits
Now it's time for the paperwork. There are three areas that you'll need to think about…
Registration: Most small businesses will want to register as an LLC, this limits your liability so that you aren't personally liable for losses incurred by the business.
Licensing: Does your industry require a license to operate? Look into state and federal licensing for your business type.
Permits: Starting a business from home can come with strings attached. If your building or neighborhood isn't zoned for commercial use, you might need a special permit to operate.
---
Step 7 – Secure Financing
Starting a family business from home has a much lower cost than starting a brick and mortar but you still might need funds to get the tools or stock you need to get started. There are a few ways to secure starting funds…
Save Up: This is the best option if you currently have a stable job that pays well enough to set some savings aside.
Borrow from Family: A family business is special because it's built to benefit everyone in a family through multiple generations. So other family members might be willing to lend a hand with some funds. Be cautious and only borrow in small amounts that you feel confident you'll be able to pay back. You never want to strain family relations because of your business.
Apply for Grants: Government organizations like the US Small Business Administration offer grants for small businesses that are just starting out.
Apply for a Microloan: The US Small Business Administration also offers small loans to new businesses. And if you're in the Bay Area, several partners of the USF Gellert Family Business Center offer microloan programs like San Francisco Entrepreneurs of Color Fund, Opportunity Fund, and CAMEO.
We don't recommend taking out a high interest loan or financing business supplies with a credit card. Your business should be a source of wealth in your family and starting off with risky debt could lead to the opposite.
---
Step 8 – Decide on an Accounting and Record Keeping System
How will you track your businesses cash flow? Keep in touch with customers and clients? Keep records of what has worked and hasn't worked? Take time to write out a detailed plan of procedures that works for you and your family.
---
Step 9 – Consider Getting Insurance
Depending on the type of business you're operating, you might want to look into insurance. How likely are you to be sued or to be involved in an injury because of the work you do? These are unpleasant but important questions to ask.
---
Step 10 – Purchase Everything You Need
It's time! Put in your orders for all the tools you need and all the goods you plan to sell. The business is ready to launch.
---
Step 11 – Market Your Business
Now it's time to tell everyone what you have to offer. Marketing a new business doesn't need to be costly or complicated. Here are some simple tips for spreading the word …
Tell your friends and extended family
Hand out flyers to your neighbors
Start Google My Business and Yelp pages (Great for local SEO!)
Start a Facebook page for the business
Put a sign up in your yard
Put your business' logo and contact information on your family car
Take out an ad in the local paper
Join your local Chamber of Commerce or a local networking group
---
Step 12 – Keep Improving
A business that lasts through generations is one that can grow and adapt. So listen to feedback, pay attention to what's working and what's not, and keep improving your services over time.
Good luck! Remember that there are challenges involved in starting every kind of business but when you start a family business, you have the best team in the world to support you.
More helpful resources for entrepreneurs learning how to start a family business at home…